I have been working with this team for years and we are like a family. Very grateful to have a group of people so dedicated to what they do and who do it with love. All my design work is through them because they know my brand and they know exactly what i like. I recommend them to everyone. Vanna Belt
The
Challenge
Vanna Belt is a brand that had tried many times to materialize and reflect its true identity visually, and portray its value through its products, communication, and electronic commerce. Unfortunately, every attempt didn't bring the best response.

The challenge for Four.19 Agency was to take Vanna Belt to a new level through strategies related to design, digital marketing and e-commerce. Vanna Belt wanted to speak to real women, who want to be heard, understood, and who need an effective solution to all those challenges on their fitness journey.

The goal was to make Vanna Belt a go-to brand on your fitness journey.
SUMMARY PROJECT
Brand identity
Creative Direction
Brand Strategy
Content Strategy
Content Production
Experience Strategy
Packaging Redesign
Product line
Distribution channels
Design & Development website in Shopify
Paid Media
Email Marketing
Social networks
Instagram filters
An Overnight Transformation
At first, redesigning Vanna Belt products was a challenge, since they were already established and positioned in the consumer's mind. Every detail of the brand, from color, tone, shape and content, allowed the brand to represent and identify with the female public.
Before

After
Before

After
Before

After
For the website we created an aesthetically pleasing page that laid the foundation for the brand, online. Combining form and function to meet the client's needs, we created an e-commerce destination on Shopify with a complete redesign that reflected the brand values. As a result of this digital transformation, we were able to dramatically improve the performance of online orders, which account for a large number of transactions.
Before

After
Go to website
With more than half a million followers, Instagram becomes a key e-commerce platform that drives traffic to the website. We curated captivating and cutting-edge content such as social media posts, gifs, stickers and all the marketing tools that these platforms allow, to achieve loyalty, to educate their followers, position their brand, and portray the world of Vanna Belt.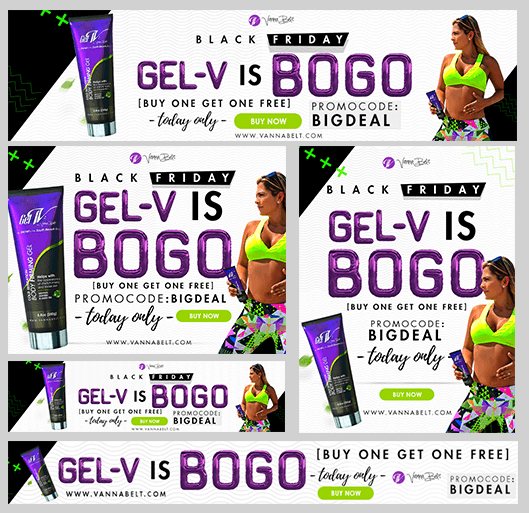 To get the most out of a brand digitally, it's important to strategize and choose your partners wisely. Our expertly crafted digital campaigns give your brand visibility on the platforms you want to be present on. Our Vanna Belt paid campaign generated impact, created recall and increased sales.
And to complete the 360º Marketing strategy, through mailing campaigns we were able to capture the audience from the subject line and the design itself, which made users recognize the brand and identify with it in a coherent way. This allowed us to obtain a good conversion rate and close a successful sales cycle.