WE ARE GRATEFUL TO FOUR.19 AGENCY BECAUSE THEY HAVE GIVEN LIFE TO A PROJECT THAT WAS BORN IN OUR HEARTS. THROUGHOUT THESE YEARS,
THEY HAVE SURPASSED WHAT WE COULD IMAGINE

AND HAVE TAKEN NOAH'S VRK TO A LEVEL THAT SURPASSES ALL EXPECTATIONS.

WE ARE CONFIDENT THAT WE WILL IMPACT MANY LIVES IN THIS LONG-TERM RELATIONSHIP.
NOAH'S VRK

The
Challenge
NOAH'S VRK was a rewarding innovation challenge with a deep social and technological commitment that tested our ability to build a connection with generations. And we successfully pulled it off with the help of unforgettable experiences and content, with innovative technological tools.

Sensations are etched in the heart!

We fostered a long-term relationship with the team at NOAH'S VRK, with the intention of building multiplatform experiential marketing with the brand. We covered sounds, textures, smells, pedagogies and sensations that are associated with the history of Noah's Ark and managed to make them memorable enough for each person to live the experience.
What Did
We Do?
Brand identity
Brand Manual and Style
Brand Strategy
Content Strategy
Content Production
Experience Strategy
Web VR
Website Design
Website Development in Shopify
NOAH'S KIDS Website Design
NOAH'S KIDS Website Development
Interactive Content Development
Content Strategy
Multimedia Content Development
ASL Language Translation
Podcast
Iconography
Social networks
Instagram filters
Gifs
WHO IS
NOAH'S VRK?
NOAH'S VRK is the biblical story of Noah's Ark, but through highly immersive and interactive virtual reality tools. It seeks to be recognized as an innovative and reliable movement that motivates generations to live with hope, through technology and digital platforms that further its propagation.
CONTACT US
Noah's Vrk Is Much More Than A
Virtual Reality Experience
Our relationship with NOAH'S VRK is based on empowering, innovating, creating and leaving an impact. We promoted the brand through conceptualization, a compelling narrative, and captivating visual expressions. We innovated through digital and offline tools that allowed a different approach to tell the story of Noah's Ark. We put our heart into the project and sought to leave an impression, conveying a message of hope.
CONTACT US
Details Are Not The Details,
They Make The Design- Charles Eames
NOAH'S VRK required a key foundation in creative and art direction to capture the user's attention. We started with the logo and integrated elements such as the olive leaf, the wood of Noah's Ark, etc, that were already developed for the virtual reality experience.

Every element has its own purpose in the design, to immerse the user into the characteristics of the biblical story, to turn their imagination into an almost real experience.
How Did We Carry Out A
Digital Transformation?
We created an e-commerce website with the help of Shopify, which brought together the experience, the narrative, the theme and the inspiration. We determined the global digital strategy and curated an incredible platform experience through design.

With an immersive and strategic design, we told stories and brought to life an atmosphere that gave the audience opportunities to interact, participate, and be part of the project.

NOAH'S VRK website offers historically relevant, informative, and emotional content, and demonstrates that it is possible to give users the ability to experience and deepen a biblical story like Noah's Ark through a digital platform.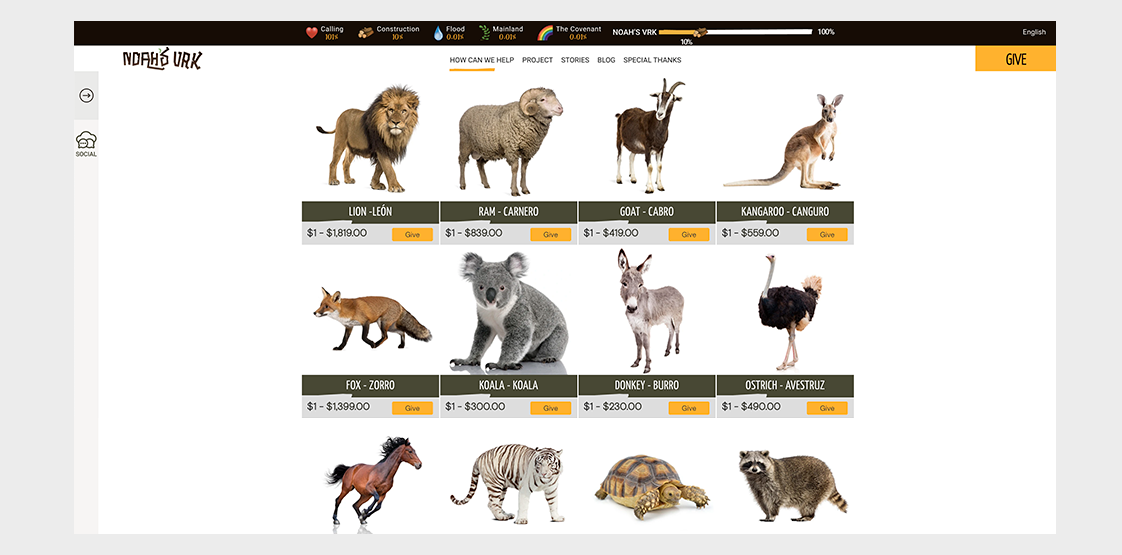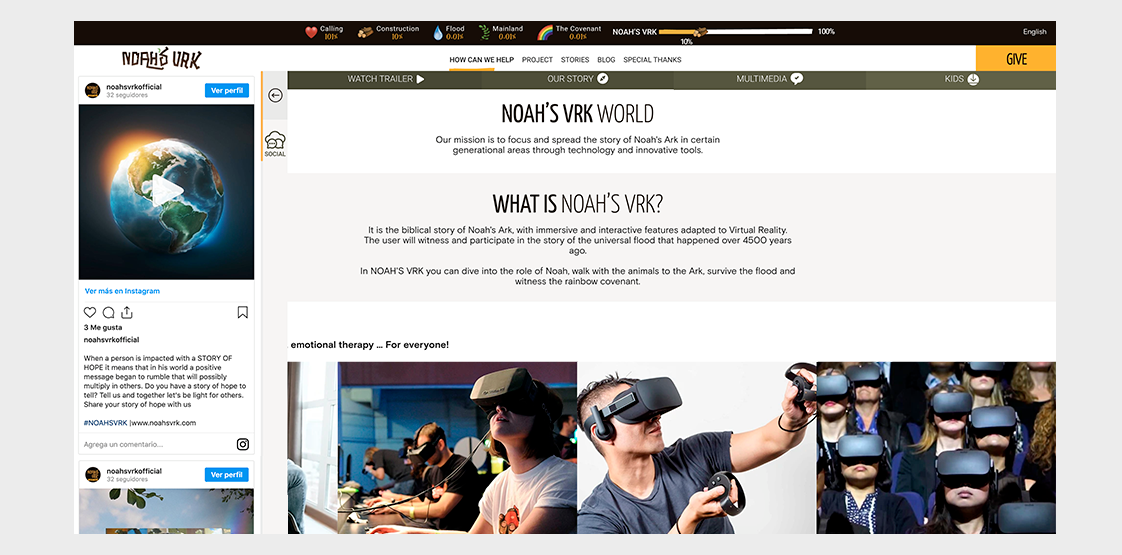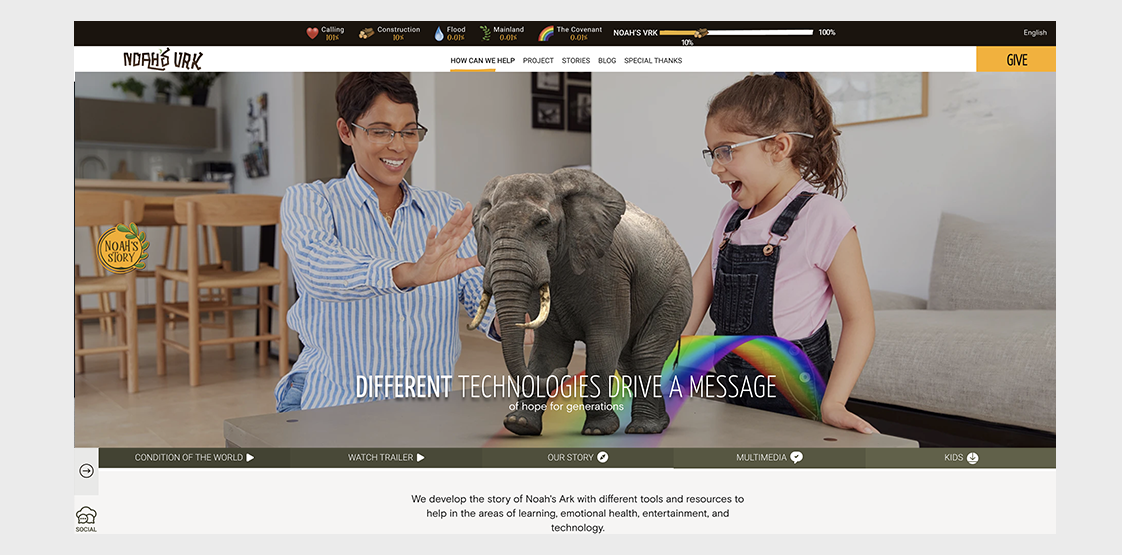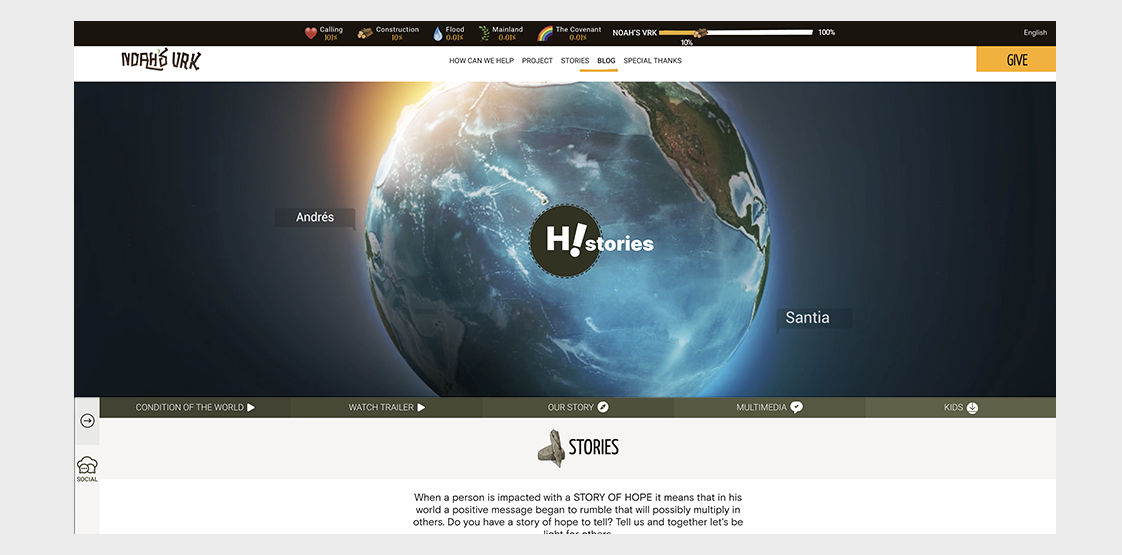 We raised the bar for NOAH'S VRK through an inclusive approach. We first defined how innovation, design and content can be leveraged across the brand's products and assets, from digital to physical. Then we looked into how each of them could satisfy our audience, with or without specific limitations.
Digital
Solutions
In this extra-exclusive world, NOAH'S VRK stands out for being an intentionally inclusive project in pretty much every way.

We developed multimedia content on platforms such as Spotify and YouTube that told the story of Noah's Ark from the book of Genesis 6: 9, to further our approach of appealing to the senses, even the able senses of people with sensory disabilities. We translated everything to ASL for those with hearing impairments, and to audio format for the visually impaired.
Interactive Games
For Kids
NOAH'S VRK's mission of crafting an experience that was inclusive to all generations led us on the path of offering an educational and entertainment experience for children too. We created the website www.noahsvrkids.com allowing children to enjoy interactive and downloadable material related to the story of Noah's Ark, with their parents. These were divided into four categories: coloring, crafts, puzzles, interactive and audio.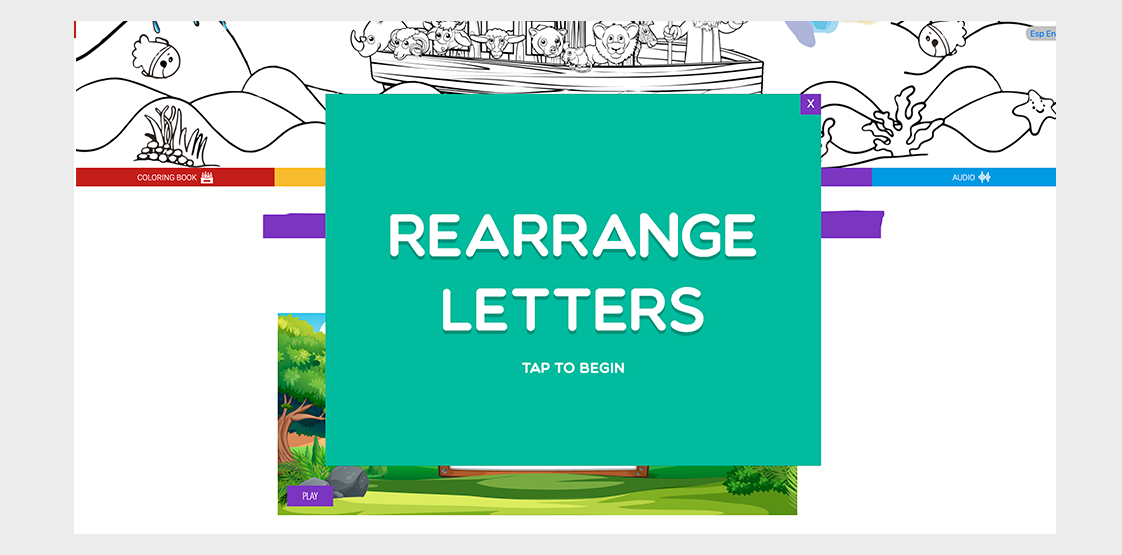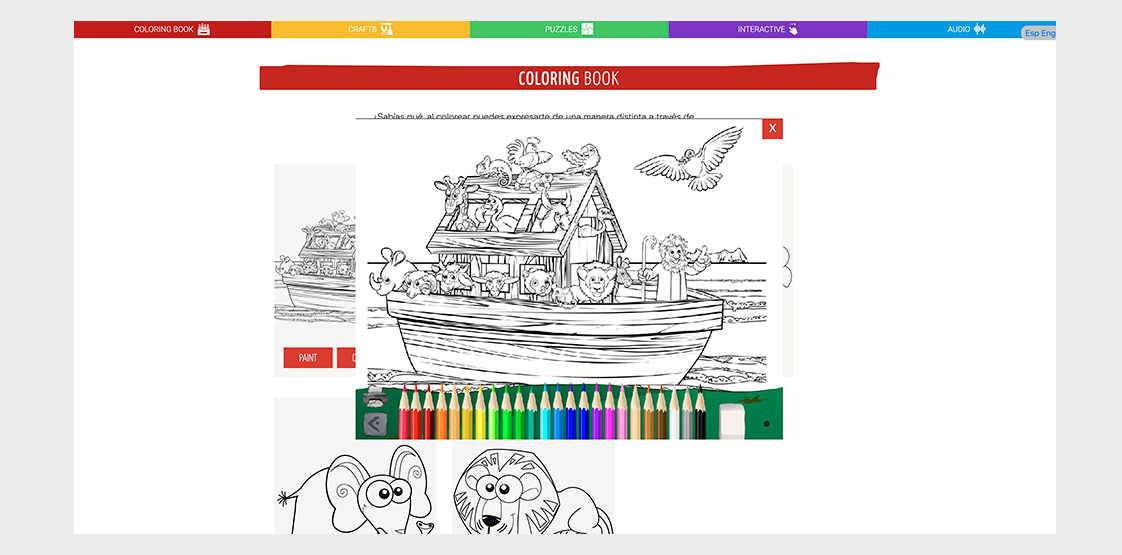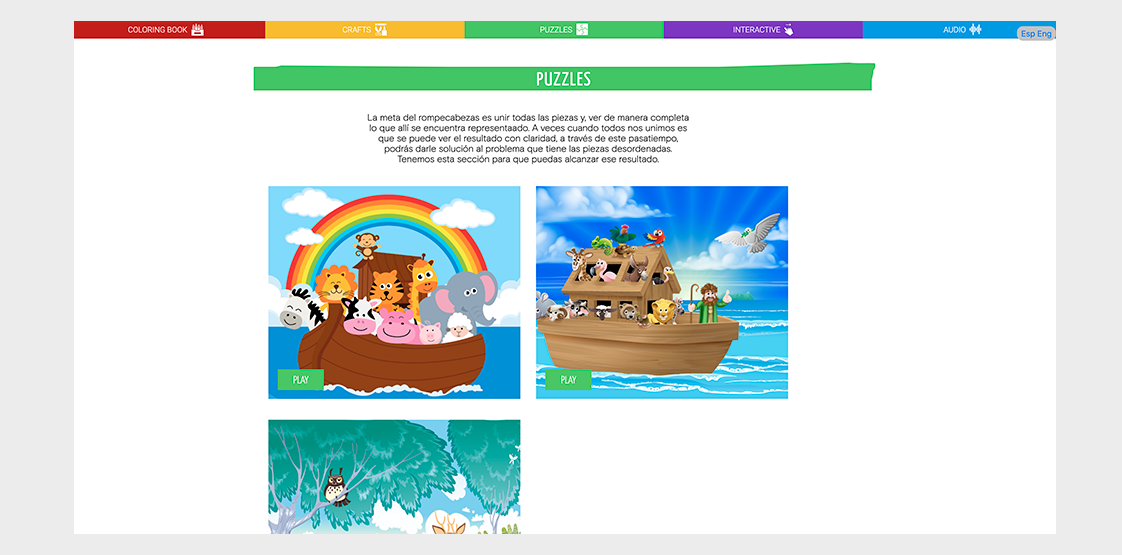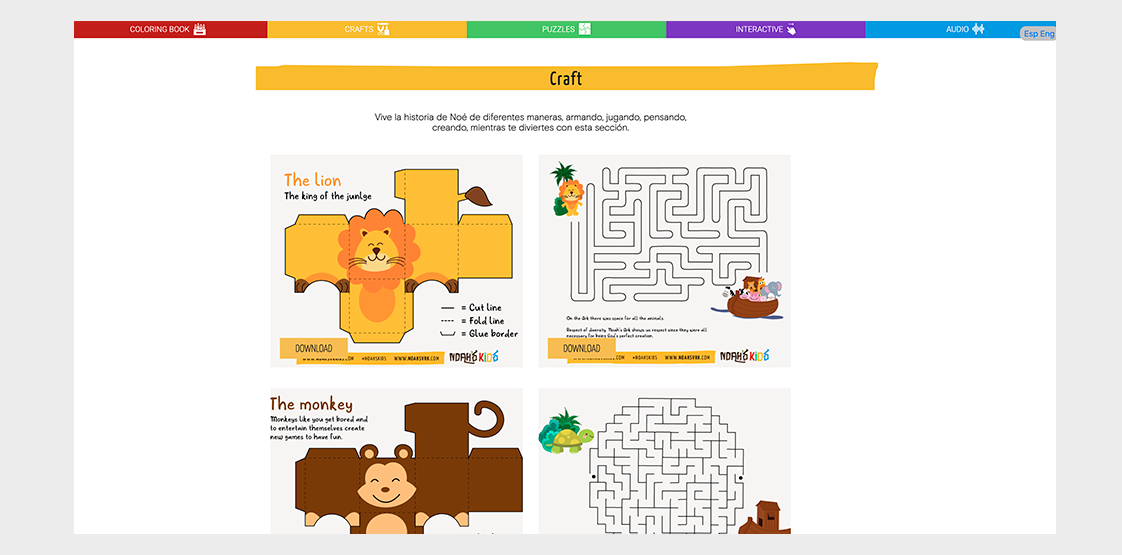 Original
Iconography
We narrate the story of Noah's Ark through an artistic visual treatment. Elements such as iconography provide a suitable look and feel for the time and place of biblical events. It also drove and enhanced the project with a completely logical and purposeful work of art direction.


The Magic
Of Filters
To add that dash of fun to the project, we created interactive and immersive filters for Instagram stories, in which users can put on masks of different animals. And in another case the filter transports them to a recreated environment so they can take photos with Noah's Ark in the background.
CONTACT US
Social Networks
& Gifs
Our work ensures we get into the details of every project, and Social Networks are no exception. Our graphic work and content is perfectly in tune with the global strategy that we define at the beginning of our process. The content we publish on the platforms speaks of high quality attention to detail, developed through every phase of the project. It also emphasized on the creative process that involves various creative tools.

We craft out a well-planned journey for our customers answering questions like what do they want to see and how do we want to show it to them?
Our collaborative efforts have been truly successful and rewarding. We have developed end-to-end digital solutions, ranging from visual identity to e-commerce and experience, from design to art direction, not leaving behind content creation and sensory experience development.