Who we are
Full-Service Digital Marketing Agency in Miami
We are a group of professionals formed by creatives, UI-UX designers, app and web developers, social media strategists, video producers and client service specialists that has managed to establish a solid work team because we keep an on going open communication where ideas, questions and initiatives are always welcome.

It is with this same mindset that we have been approaching each and every one of our clients since 2014, which has allowed us to deliver customizable and more to the point results for brands to have a solid online presence and their own digital footprint within their markets.

We want to make things simple for you, especially if your company requires two or more services at the same time. As a full-service digital marketing agency we'll take charge of your broad spectrum of needs guaranteeing consistency, continuation and an integrated strategy. For your convenience, we have over 20 services at your disposal distributed in four categories.

Rest assure, we do our homework. And by homework, we mean being up-to-date with the innovation curve which has always been our incentive to work in a digital marketing campaign. But, most importantly, we want to help you build a great digital ecosystem. Allow us to show you the way.

We Believe in building positive messages through the brands we work with.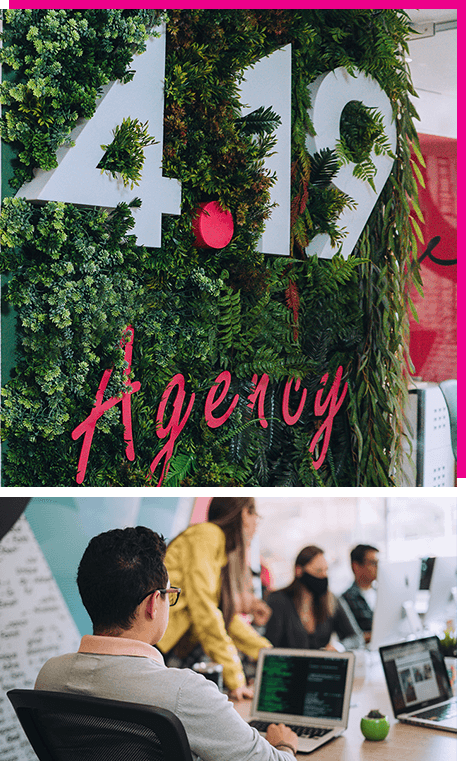 Our
Clients Reviews
I've been working with this team for years and we're like family. Very grateful to have a group of people so dedicated to what they do and that they do it with love. All my design work is through them because they know my brand and know exactly what I like.
I recommend them to everyone
-Vanna Belt-
Four 19 has truly been a blessing to our company, their service is out of this world and not to mention the content. They take care of every detail from content creation for social media, web design and maintenance, e-commerce, graphic design, etc. You name it and they'll create it!
-Lulú PlantainChips-
We have been working with Four 19 for about 3-4 yars. By now we have successfully finished multiple projects with great results. Their winning team is always willing to assist. 100% recommended.
-Interworld Freight-